What We Do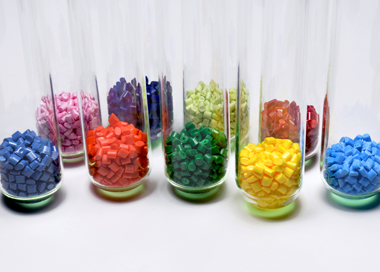 Colorco's core business is the formulation and manufacture of custom color and functional additive products for thermoplastics. These products come in the form of concentrates and dry colorants. They are intermediates for the plastics industry and provide added value to the products into which they are incorporated. We also do some pre-colored compounds. We work primarily with processors, but we also work with brokers, designers, agents, and end users to come up with the best product at the right price.
Dry colorants are powder blends of various pigments/dyes and additives. Concentrates are blends of various pigments/dyes and additives compounded into a thermoplastic resin carrier and come in a pellet form.
The primary function of the color concentrate is to disperse easily and cleanly into the plastics process whether it be injection molding, blow molding, sheet, film or profile extrusion. Visual and physical repeatability must hold a tight tolerance from the first lot to the last so that you don't have to waste time making adjustments.